Amazon
Updated a year ago
How do I find my order ID number on Amazon?
If you purchased your product on Amazon from Vintorio, your order ID should be located in your Order History. It should be a 17-digit order number at the top right of the order that contains our Vintorio product and will look like, "ORDER # XXX-XXXXXXX-XXXXXXX", with the x replaced by numbers. Don't worry! We won't be able to see any of your other purchases in the order and it is just to verify that you have purchased an authentic Vintorio product from us. 
For orders on Amazon, please keep in mind that the seller of the product must be either Vintorio LLC or Vintorio Co LTD in order for us to verify your order. Otherwise, you may have purchased our product from a third-party seller. We are unable to look up orders sold from a third-party seller.
How do I ensure that I'm purchasing directly from Vintorio on Amazon?
When ordering your Vintorio product, make sure that the seller, or Sold by, is listed as Vintorio. This ensures that you are receiving an authentic Vintorio product rather than a counterfeit product.
Unfortunately, we've heard a lot of complaints that third-party sellers are copying our wine accessories and selling them at a lower cost with potentially dangerous, inferior materials. We spent a lot of time perfecting our wine accessories to make the best possible product with the safest, highest-quality materials.
We at Vintorio Wine Accessories want to protect our Vintorio community of wine lovers and want to make sure that you receive the best possible product directly from the source. We cannot honor our Lifetime Guarantee to those who purchase their product from a fake seller. We ask that you be careful when purchasing from Amazon or buy our products directly from our website, vintorio.com.
"Sold by" should display either Vintorio, Vintorio LLC, or Vintorio Co LTD
I ordered from Vintorio on Amazon and my package is missing! What should I do?
If you ordered from Vintorio LLC or Vintorio Co LTD on Amazon.com and your tracking information shows that your package was delivered, but you can't find it within 48 hours of expected delivery:
Note: Some carriers may deliver until 10 pm.
Verify the shipping address in Your Orders.
Look for a notice of attempted delivery.
Look around the delivery location for your package.
See if someone else accepted the delivery unless you have health or safety concerns about doing so.
Some packages travel through multiple carriers; check your mailbox or wherever else you receive mail.
Wait 48 hours. In rare cases, packages may say delivered up to 48 hours before arrival.
If you still haven't received your package, please contact Amazon directly. All of our Amazon orders are shipped and fulfilled by Amazon, so they will be able to replace or refund your package directly.
We recommend taking these steps to report the missing package to Amazon:
Sign in to your Amazon account and click on Your Orders.
Locate the order, and choose "Problem with Order"
When asked to select the problem, click on the option stating that the item hasn't arrived.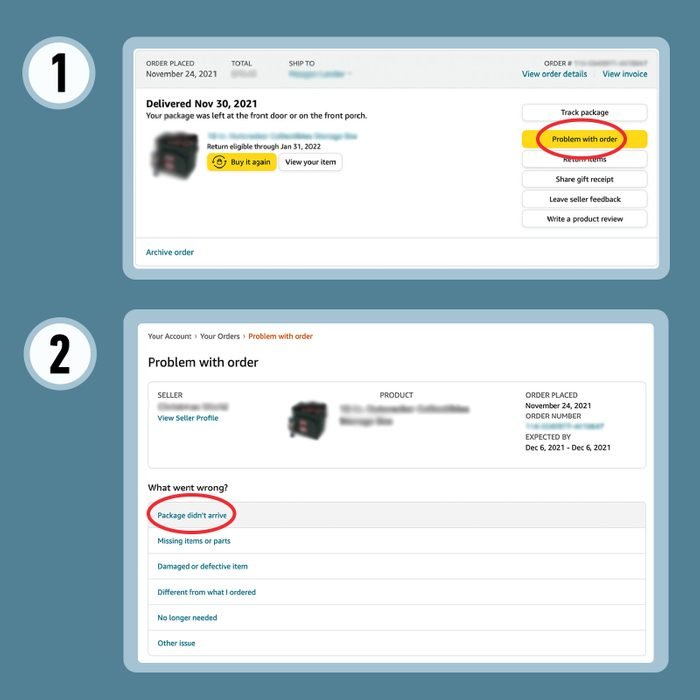 Amazon should 100% take care of this issue for you, but if you still have trouble after following these steps, please let us know at [email protected].
Was this article helpful?